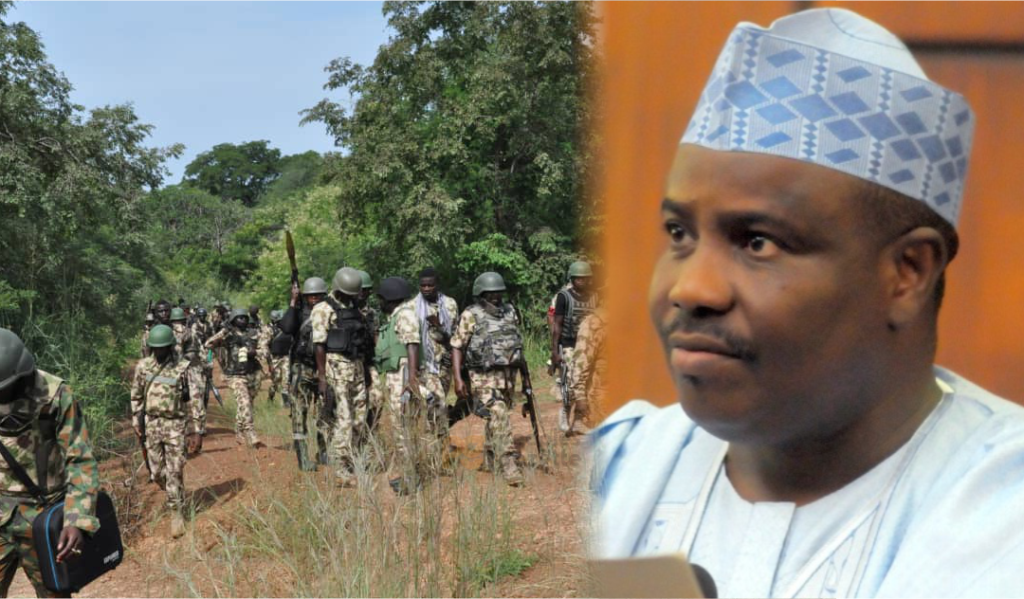 No fewer than 150 people were killed in bandits attack on Goronyo township in Sokoto State after Nigerian soldiers abandoned their equipment and fled the area, Peoples Gazette has learnt.

Last Sunday, the bandits stormed the town in Goronyo Local Government Area of the state on over 100 motorcycles and opened fire on residents in the attack that lasted for hours.
The state governor initially said over 30 people were killed, but later confirmed 43 dead.
"The number of people that died in Goronyo; I did say it was above 30. I was not categorical about the figure," he was quoted in a statement by his media adviser, Muhammad Bello.
"We just finished a meeting with some stakeholders and I have confirmed that we lost 43 people, unfortunately to that incident. May God Almighty have mercy on their souls," Governor Aminu Tambuwal later said.
However, sources told The Gazette that the assailants killed over 150 persons after soldiers who were on Shinaka-Sokoto Road abandoned their trucks and fled the area.
"The bandits came in on motorcycles that were more than 100. The soldiers who were on Shinaka-Sokoto Road abandoned their trucks and equipment and fled.
"This gave the bandits free passage and they spent many hours killing and looting people," Adamu Ibrahim, a resident of the town, told The Gazette on Wednesday morning.
Mr Ibrahim said the attack lasted hours following the disappearance of security personnel, and with no help of rescue due to telecommunications services shut down in the area.
"There was no communication or security so the bandits had many hours to carry out their evil killing and they also carried people's properties with them when they left," he said,
"We counted more than 150 bodies because they were arranged in rows and some rows had 10 bodies while some had 15 or 25 bodies. We counted more than 150 bodies," he added.
"Some of us who escaped the killings came to Sokoto to complain that there were more than 150 people who lost their lives but the government was giving different statements saying 30 or 40 people were killed. They later said 43 but still very far from the people killed."
Another resident, Muhammad Makintami also told The Gazette more than 150 people were killed.
"We met witnesses who ran to Sokoto from the affected local government and they gave a clear account of dead bodies," Mr Makintami said, adding that "They were in their hundreds and at least 150."
When contacted for comments on the incident, the spokesperson for the Nigerian Army, Onyema Nwachukwu denied the casualty figure, saying, "I wonder from what source this false information is emanating."
He added, "The COAS has visited troops in their locations and deployments, where he addressed the troops and made assessments of ongoing anti-banditry operations. Please discountenance this rumour."
The attack came days after some youths in Goronyo town took to the streets to protest against insecurity, which has forced many to flee the town.
In September, the state government shut down telecommunications services across Gada, Goronyo, Gudu, Ilela, Isa, Kebbe, Sabon Birn, among other local government areas to curtail increasing levels of insecurity across the state.
The same month, it capped the maximum amount of petroleum product motorists and tricycle operators can buy per time at N5,000 and N500 respectively. 
(Gazette)