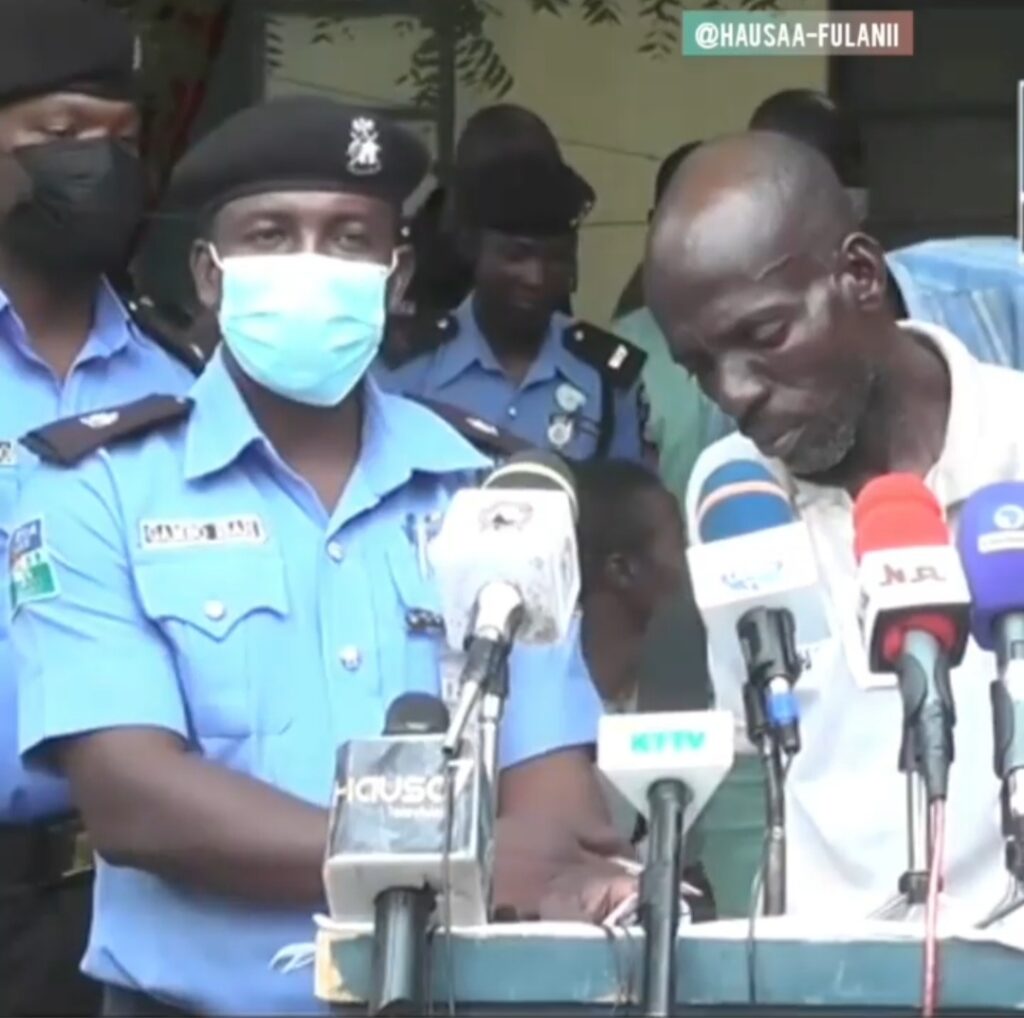 By

Hassan Michael
An arrested bandit by name Ado Namarai has Indicted the Kaduna state Governor Nasiru El-rufai during interrogation by the police. Ado Namarai 55, an indigene of Kaura Bugaje village in Jibia local government area of Katsina state told the police that he has killed not less than 4 people during kidnapping operations around Birnin Gwari axis of Kaduna state since he joined the kidnapping gangs he claimed to be Fulanis.
The bandit made the confession in a video posted by a Freelance Journalist named Muhammed Auwal Muasu on his Instagram page; @Hausaa_fulanii and obtained by MBT. During interrogation by the Katsina state Police Public Relations Officer, SP Gambo Isah, the bandit admitted to being part of a bandit gang operating in Kaduna state.
He told the police that prior to 4-5 years ago, he was a labourer who makes bed using raw materials from harvested maize sticks and some of his customers were bandits.
"Before I joined the kidnapping business, I was into local bed making, an improvised bed I make using sticks from harvested maize. Most times when the bandits come to buy my products, they offer me more than the cost price.
"One day, they told me that as an old man I deserve a better life and that was how they introduced me to crime." Namarai said
in the 9 minutes video, Ado Namarai said he and his gangs were also into cattle rustling and armed robbery operations. He also confessed to killing some of their victims during kidnapping operations.
"We attacked some commuters along Mando-Buruku road and I opened fire. I killed four people and shot a fifth on the leg. We abducted ten people in total from the two vehicles and each of them paid N10 million in ransoms." He said
At the nineth minutes of the video, the bandit speaking in Hausa language told the police that his gang members are in a place called Sabon Filli, a community along the Kaduna international airport.
"As I speak to you now, I am sure they may be watching, they are in Sabon Filli and they are well armed.
"They sometimes go into the village armed and collect goods without payment. Whenever any goods owner try to protest, they will shoot the person.
"El-rufai knows about the place. He concluded before the video ended.
As at the time of filling this report, MBT could not verify why the video ended at the mentioned of the name El-rufai or why the bandit who was obviously not under any compulsion mentioned the Governor's name.
It would be recalled that a former Deputy Governor of the Central Bank, Dr Obadiah Mailafia during an interview session with Nigerian info FM alleged that some repentant bandits commanders named certain Northern Governor of being Boko Haram commander.
Mailafia was invited by the Nigerian Services the DSS for questioning over the allegations.
The former Oxford trained Central Banker died under very controversial circumstances on the 19th of September 2021 with many Nigerians of the opinion that he may have been killed.
Kaduna state since 2015 has become the epicenter of kidnappings and attacks on communities which many blamed on Fulani herdsmen militias.
last Sunday, 38 people were killed by gunmen suspected to be Fulani terrorists in Madamai and Abun communities in Mallagum district of Kaura local government area of the the state. They were buried yesterday in a well publicised mass burial attended by dignitaries from Southern Kaduna.
When contacted, the Katsina state police public relations officer, Gambo Isah who interrogated the bandit for comments on the matter, he said he cannot comment on it.
"I cannot comment on the matter." Isah said via a telephone conversation with MBT reporter