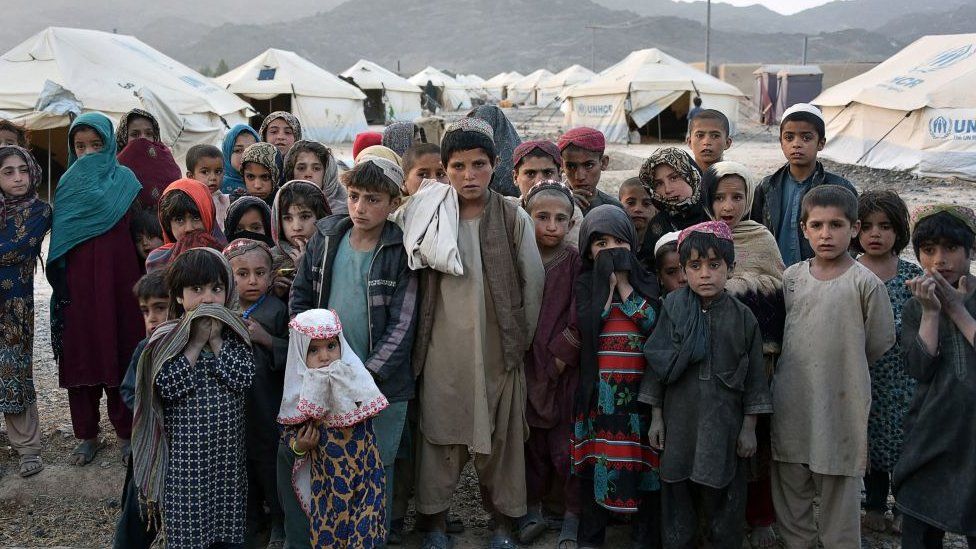 Desperate to feed her family, Saleha, a housecleaner here in western Afghanistan, has incurred such an insurmountable debt that the only way she sees out is to hand over her 3-year-old daughter, Najiba, to the man who lent her the money.

The debt is $550.
Saleha, a 40-year-old mother of six who goes by one name, earns 70 cents a day cleaning homes in a wealthier neighborhood of Herat. Her much older husband doesn't have any work.
Such is the starkness of deepening poverty in Afghanistan, a humanitarian crisis that is worsening fast after the Taliban seized power on Aug. 15, prompting the U.S. to freeze $9 billion in Afghan central-bank assets and causing a halt in most foreign aid.
Already, 95% of Afghans aren't getting enough to eat, according to the United Nations' World Food Program, which has warned that "people are being pushed to the brink of survival." Almost the entire Afghan population of 40 million people could fall below the poverty line in coming months, according to the U.N.
Behind these statistics lie countless personal tragedies of families like Saleha's. She and her husband used to work on a farm in the western province of Badghis, but two years ago lost that income because of fighting in the area and drought. So they borrowed money just to get food. Hoping to find employment, they ended up moving to a giant encampment of people displaced from other provinces, known as Shahrak Sabz, in Herat.
With the financial system and trade paralyzed after the Taliban takeover, prices for basic food items like flour and oil have doubled since mid-August. The lender offered early this month to write off the debt if she hands over her little girl.
They have three months to provide the money. Otherwise, Najiba will be doing household work in the lender's home and be married off to one of his three sons when she reaches puberty. They are not sure which one. The oldest is now 6.
"If life continues to be this awful, I will kill my children and myself," said Saleha, speaking in her tiny two-room home. "I don't even know what we will eat tonight."
"I will try to find money to save my daughter's life," added her husband, Abdul Wahab.
The lender, Khalid Ahmad, confirmed he had made the offer to the couple.
"I also don't have money. They haven't paid me back," said Ahmad, reached by phone in Badghis. "So there is no option but taking the daughter."
Following the Taliban takeover, neighboring Pakistan and Iran, where many men from this community used to work as laborers, closed their borders, bracing for a flood of refugees. All that is left as work is collecting plastic bottles and other trash to sell for recycling. Other families in the area have had to surrender children to repay debts, residents say.
Growing destitution could undermine the Taliban's so-far solid hold on power and serve as a recruiting tool for the local branch of Islamic State, their only significant rival. A Taliban official in the west of the country said that Afghans would have to get used to a meager existence.
"We suffered for 20 years fighting jihad, we lost members of our families, we didn't have proper food, and in the end, we were rewarded with this government. If people have to struggle for a few months, so what?" said the official. "Popularity is not important for the Taliban."
Taliban officials have repeatedly said they welcome international aid for Afghanistan but wouldn't compromise on their Islamic beliefs to secure assistance.
The humanitarian crisis, however, is prompting a debate within the international community over whether to condition foreign assistance on the Taliban moderating their behavior and showing more respect for the rights of women and minorities.
Afghanistan's new health minister, a urologist appointed by the Taliban and one of the few non-clerics in the new administration, pleaded for the international community not to abandon the country.
"It is the same mother, the same child, the same patient you were previously helping. They haven't changed," Qalandar Ibaad said in an interview. "Governments change in all countries."
Groups like the International Committee of the Red Cross and the U.N. warn that emergency humanitarian aid must be unconditional. While demanding that the Taliban allow women to study and work is important, they argue, a more urgent priority is to make sure women don't freeze or starve to death this winter.
The U.S. and other Western nations that spent the past two decades fighting in Afghanistan have a particular responsibility, some aid officials say.
"These countries who have their fingerprints all over the sorry situation here have at least to disburse the funding we need so we can avoid people perishing in enormous numbers this winter," Jan Egeland, secretary general of the Norwegian Refugee Council, which operates in more than a dozen Afghan provinces, said in an interview in Kabul. "To pause the lifesaving funding because we're still negotiating female rights would be utterly wrong."
Egeland, a former head of the U.N.'s emergency aid arm, said his organization wouldn't reopen the boys schools in provinces where girls schools weren't allowed, but it wouldn't withhold aid that could save lives.
Heather Barr, associate director of the women's rights division at Human Rights Watch, said that donors had vowed they would judge the Taliban by its actions, but the risk of famine left them with little choice but to provide aid regardless.
"The Taliban are holding Afghans hostage and playing chicken with the international community," she said.
Some 2,300 Afghan hospitals and clinics were dependent on foreign funding before the Taliban takeover. Just 17% of those are now fully functional, and 64% are out of essential drugs, said Richard Brennan, the regional emergency director for the World Health Organization.
International aid had also paid the salaries of tens of thousands of doctors, nurses and teachers, now struggling to get by.
In Herat, an emergency feeding center for severely malnourished babies run by the French charity Doctors Without Borders is full and has had to expand capacity. Babies are arriving with respiratory distress, dehydration, and shock. Their mothers are getting such little sustenance that they can't produce enough milk.
At Herat Regional Hospital, the staff have threatened to quit after not having been paid for four months. The government hospital has run out of even common medicines like antibiotics and basic supplies like surgical gloves and bandages. Oxygen is in short supply. Patients have to purchase their own medicines, anesthetic and other necessities for surgeries.
"I hope we don't go back to the situation of 25, 30 years ago, when there were basically no health facilities in this country," said Mohammad Aref Jalali, the medical director. "We could lose everything we have achieved."
In the orthopedic ward, Abdul Rahman, was lying on a bed with pins sticking out of his leg, where he was shot by robbers for the motorbike he was riding. The wound had become infected and doctors told the father of seven they might now have to amputate the leg.
"If they cut off my leg, there's no one else to provide for my family," said Rahman, a laborer, age 37. "What will happen to my little children?"
[Eagles Path]