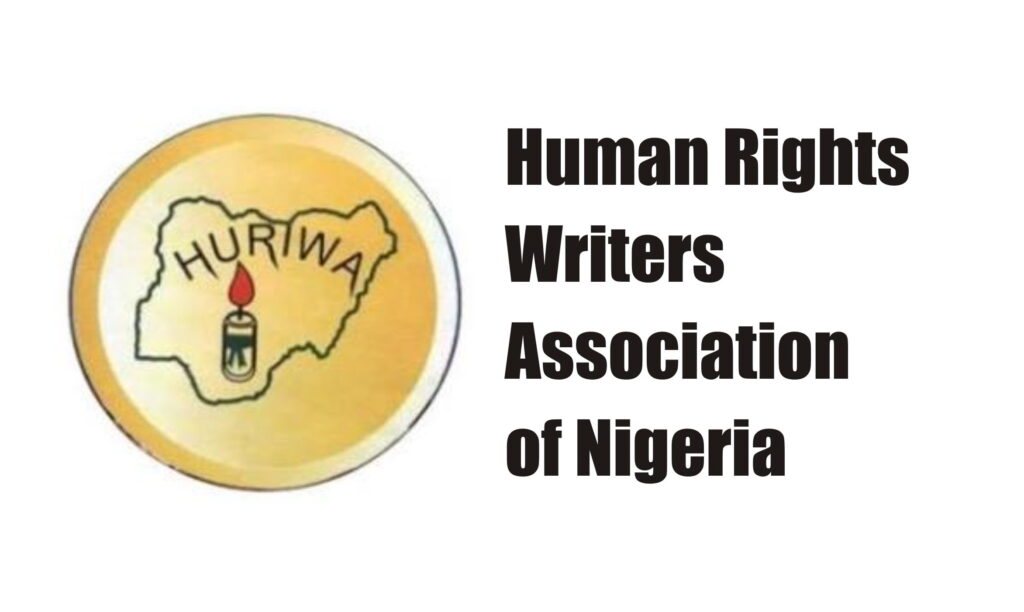 HUMAN RIGHTS WRITERS ASSOCIATION OF NIGERIA ( HURIWA) has rejected what it calls the persistent double standards that tailor federal government policies and initiatives. HURIWA carpeted the Federal Attorney General and Minister of Justice Abubakar Malami over his claims that the banned Indigenous Peoples of Biafra (Ipob) was responsible for some disturbances during last year's #ENDSARS PROTESTS in Lagos including the lootings of the palatial mansion of the Oba of Lagos. HURIWA says it is possible that the Minister of Justice who is a politician is playing politics of EAST/WEST DIVIDE so as to precipitate political division between Igbo people and the Yoruba and then open up the possibility of retaining power in the North.

There is a clear evidence of double standard in the area of public prosecution of politically exposed individuals from either north or south. The government, particularly the ministry of justice has consistently manifested aversion or lack of enthusiasm towards bringing suspected terrorists from the Northern part of Nigeria to justice but he is always overzealous to charge other persons from the south with certain phantom allegation of of terrorism and the Justice ministry is busy conjuring up half baked allegations to hang it on the necks of either Nnamdi Kanu or Sunday Igboho.
A good example will suffice; Nnamdi Kanu versus Certain elements and Divisive leaders of Miyetti Allah that have been quoted in the media for supporting the activities of the armed Fulani headsmen who are terrorists.
These same leaders of Miyetti Allah who are in Nigeria have made treasonable statements challenging the government authorities of the state governments that have carried out the legal passage of laws on the anti-open grazing legislation have not only made threats but carried out their threats like in Ondo state.
The National President of Miyetti Allah Cattle Breeders Association has threatened fire and Brimstone in the South East of Nigeria just because people people rejected Ruga Fulani initiative of the president.
Few months after these threats were published in the media and still on the internet as I speak, there are sporadic attacks targeting strategic national security institution and assets and the government's at both the South East and centre have refused to conduct proper forensic investigation but have hastily blamed Eastern Security Network and the Indigenous Peoples of Biafra. IPOB denied.
There are now cases, incidents of targeted killings of prominent Igbo leaders , businessmen including traditional rulers in the South East which tallies to the threats made by Miyetti Allah but yet the federal government refused to arrest the National and regional leaders of Miyetti Allah for this act of terrorism all around the country. But This same government is quick to kidnap Mazi Nnamdi Kanu from from Kenya and charged him for broadcasting hate messages he allegedly committed while in London where he resides. But the miyetti Allah officials who have made threats and have carried out those threats are indeed enjoying public sponsored security cover even while they commit those acts of terrorism. Now the justice minister is carrying out MEDIA TRIALS OF NNAMDI KANU WHOM THEY HAD DETAINED AND ALSO TRYING TO ROPE IN SUNDAY IGNOHO INTO BOKO HARAM TERRORISTS SOONSORSHIP AND THIS IS THE SAME MAN THAT NEARLY GOT KILLED BY DSS WHO INVADED HIS IBADAN HOUSE AT NIGHT BUT FOR THE GRACE OF GOD THAT MADE HIM TO ESCAOE HE COULD HABE BEIBG KILLED. NOW MALAMI COMES UP WITH TALES BY MOONLIGHT STORIES THAT IGNOHO HAS A LINK TO BOKO HARAM SPONSORS. THIS IS RIDICULOUS.
Government has refused to publish the Names of the 400 Boko haram terrorists supporters they identified even the matter have been filled in court. When a matter is filled in court , it has become a public document so why is the government concealing the identities of those sponsors?
Is it because the sponsors allegedly consist of Northern Muslims ?
Now government has quickly published the list of the account details of Mr Sunday Igboho the leader of Yoruba Nation . So why is he the minister of justice refusing to publish the list of Boko Haram Sponsors?.
HURIWA cited media report as claiming that the Federal Government has identified the financiers of Yoruba nation separatist leader, Sunday Adeyemo, also known as Sunday Igboho.
Abubakar Malami, Attorney General of the Federation and Minister of Justice disclosed this at a press conference in Abuja on Friday.
According to Malami, a committee constituted by the Federal Government unmasked how Igboho got monies from 43 bank accounts, across nine banks.
"The Federal Government has received the report on financers of Adeniyi Sunday Adeyemo a.k.a Sunday Igboho. The report revealed that Sunday Igboho is a Director and signatory to Adesun International Concept Limited registered on 23rd April, 2010."
"Adesun International Concept Limited also has Oladele Oyetunji and Aderopo Adeyemo as Directors. Sunday Igboho is linked to 43 bank accounts in 9 banks.
"The major financier of the fugitive and separatists was found to be a Federal Law Maker in the National Assembly. A total sum of ONE HUNDRED AND TWENTY-SEVEN MILLION, ONE AND FORTY-FIVE THOUSAND NAIRA ONLY (N127, 145,000.00) was received by Igboho from his financiers between 22nd October, 2013 and 28th September, 2020 through Adesun International Concept Ltd accounts.
"A total sum of TWO HUNDRED AND SEVENTY-THREE MILLION, ONE HUNDRED AND NINETY-EIGHT THOUSAND, TWO HUNDRED NAIRA ONLY (N273,198,200.00) transaction outflows was recorded from Sunday Igboho's account between 15th March, 2013 and 11 the March, 2021.
"Investigation reveals that Adesun International Concept Ltd (belonging to Igboho) transferred the sum of twelve million seven hundred and fifty thousand naira (N12, 750,000) to Abbal Bako & Sons.
"It might be recalled that Abbal Bako & Sons and its promoter Abdullahi Umar Usman are suspects in the on-going Joint Terrorist Financing Investigation. Abdullahi Umar Usman is by way of financial transaction connected to SURAJO ABUBAKAR MUHAMMAD (who was sentenced to life imprisonment in UAE on charges of financing terrorism [Boko Haram]).
"This report shows the nexus between separatists' agitation, terrorism financing and disruptions of peace in the country.
"The report found connections of financial transaction between Adesun International Concept Ltd (belonging to Igboho) and some construction companies and businesses among others."
HURIWA has condemned this press conference as subjudice and a crude attempt to force the hands of the court to convict Nnamdi Kanu by all means. ABUBAKAR MALAMI who has refused to disclosed identities of sponsors quickly pointed out one of them and then linked him to Sunday Igboho who is known to have chased away armed Fulani attackers in the South West of Nigeria. Is Malami saying a Northern Moslem funded Sunday Igboho to chase away Northern Mislem Fulani terrorists from South West the same armed Fulani militia that the minister of justice has till date failed to prosecute and told us HURIWA in writing that he has no case files on them?
Comrade Emmanuel Onwubiko:
NATIONAL COORDINATOR:
HUMAN RIGHTS WRITERS ASSOCIATION OF NIGERIA (HURIWA). OCTOBER 22ND 2021.