…Commends Comrade Taddu Nehemiah for being a 'reliable mentee'
By Steven Kefas

It was an atmosphere of celebration and awe in the country home of Comrade Elder Takai A. Shemang, Mni, a pioneer Chairman of the Nigerian Labour Congress (NLC) Kano.
Comrade Takai who turned 76 recently recounted his journey through trade unionism as a young man from Bikini village in Manchok, Kaura local government Area of Kaduna state who went in search of greener pastures only to find himself in the forefront advocating for better working conditions for workers in Kano state and the country at large.
"I was a son of a nobody in this community but hard work, dedication, sincerity and commitment took me all over Nigeria and even international fighting for better welfare for workers.
"Growing up was challenging because as s son of a nobody, education back then was not easy to come by but hardwork took me through elementary education and since then I never stopped growing and building my capacity." Comrade Takai said
The former electricity worker and international Labour activist who rose to the position of AGM in the defunct National Electric Power Authority NEPA said he is not happy that the foundations they toiled to lay for the labour unions in Nigeria have been abandoned by successive labour regimes.
"I am disappointed because the labour struggle in Nigeria has derailed and the foundations we laid have all been abandoned by successive labour regimes.
"I remember during our time in the struggle, the government take us very serious because we were never going to compromise on the morals guarding the trade unions.
"I was persecuted, arrested and even incarcerated all because of trade unionism but that never deterred me." He said.
Takai who is a fellow of the National Institute for Policy and Strategic Studies, Kuru in Jos said his quest for knowledge forced him into obtaining a masters degree alongside his daughters at the same time in the same university.
"I didn't join service as a graduate but over time, I continued to build my capacity.
"I and my daughters were receiving lectures in the same classroom for our masters degree program in University of Jos.
"We obtained our masters degree on the same day from the same institution with my daughters." He said.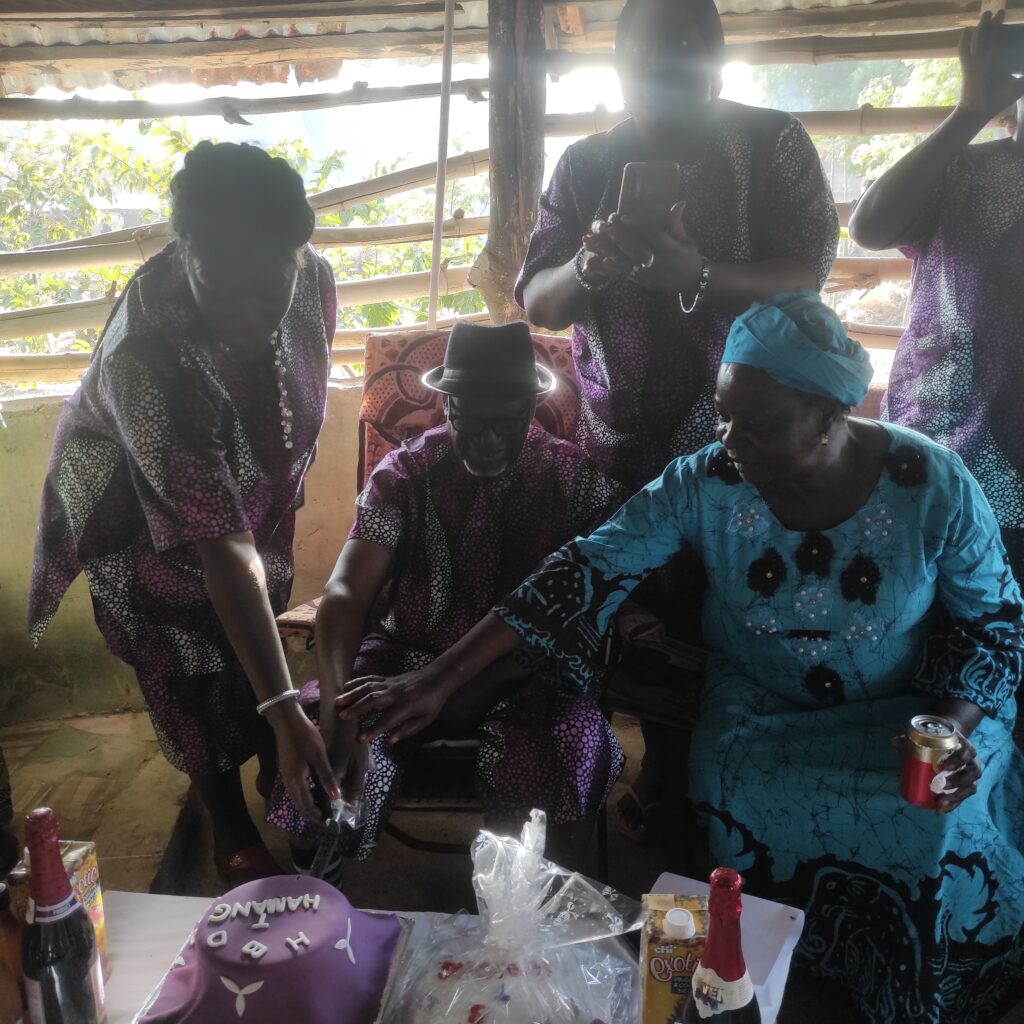 Comrade as he is fondly called by his children and friends, also shared how he rose to the pinnacle of his career.
"I rose to become a District Manager in NEPA despite not being a trained electrical engineer, I think I was the first to achieve that feat in the country at that time." He said.
His wife, children, in-laws and mentees took turn to shower praises on him for being an astute disciplinarian, a loving father, a community builder and leader who never compromises at all times.
Upon retirement, Comrade Elder Takai returned back to Bikini village where it all started and founded Gantys Aid for Widows, Orphans and Needy (GAWON), a non governmental organization that caters for the less privileged in society.
On his part, the organizer of the surprised birthday party, Comrade Taddu Nehemiah, described Takai as a mentor, a father and benefactor he owes his successes so far to.
"Words alone cannot describe who Elder Comrade Takai is to me, he has been a strong pillar of support to me.
"He brought me into the electricity profession where I am today.
"I also joined unionism at work because of the inspiration and motivation I got from him.
"My prayer to God is for grace to continue walking on the path Takai left behind in service." Comrade Taddu said.
The celebrant too time to praise Comrade Taddu whom he described as a son in whom he is well pleased and encouraged him to continue in the right path.
"I want to thank Taddu for honouring me in such a big way today, I lack words to describe how I feel right now.
"This is the second time I am getting such s surprise in my life, the first being in the 90s when a former military adminstrator, Mshelia and some friends and family organised a similar surprised for me.
Comrade Takai also encouraged the youth not to always be in a rush to achieve success.
"I want to advise the youth to be careful and not to be in a rush to achieve success.
"Where are you rushing to? That is why our values are depreciating because young people are always read to cut corners to attain success." He said.
Elder Takai also attributed the many challenges bedeviling the nation Nigeria to the absence of justice and equity.
"Lack of equity is what has brought us to where we are as s nation, peace can never reign where there is no equity." He said
The climax of the occasion was the cutting of birthday cakes and rendition of birthday songs by family and friends who had come from far and near to celebrate am man they all described as an achiever.