…Call for a ban on open grazing in the state
As the people of Kwi village in Riyom local government area of Plateau state continue to mourn the killing of Mr. and Mrs. Rwang Danladi, a teacher at BECO Comprehensive School, Kwi by Armed Fulani herdsmen on Monday, August 14, 2023, The Berom Youth Moulder Association (BYM) has called for a ban on open grazing in the state.

In an exclusive chat with Steven Kefas on Wednesday, August 16, 2023, the Leader of the group, Barrister Solomon Dalyop decried the forceful occupation of lands by armed Fulani herdsmen in the state. Dalyop stated that as of December 2022, about 102 villages have been forcefully taken over by armed herdsmen, forcing the original owners to flee to makeshift IDP camps.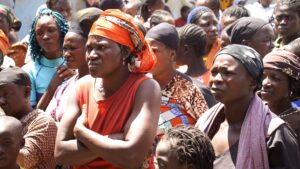 Reacting to the killing of Mr. and Mrs. Rwang Danladi in Kwi village by those he described as "Known herdsmen", Dalyop described the attack as unfortunate, 'well planned and organized'. He said the herdsmen went into the gated school to graze in violation of subsisting order against grazing on farmlands in the state.
"At about 3 pm on Monday, some teachers of BECO (Berom Educational and Cultural Organization) Comprehensive School had gone to compile results of students to be issued on Friday, August 18.
"While the teachers were working in their offices, some known from Fass, a neighboring community about a kilometer from Kwi brought their cattle into the school compound to graze. The school is fenced and gated so it wasn't the case of cattle straying into an open space, it was deliberate.
"When the teachers came out to confront them in a peaceful manner by asking them to take their cattle out of the school compound, they brought out arms and shot at the teachers, killing Mr. Rwang Danladi and his wife while the Vice Principal of the school, Emmanuel Ibrahim was injured." He said.
Plateau state has been in the news albeit for a negative reason in recent times due to incessant attacks on farming communities by terrorists victims have repeatedly described as Fulani herdsmen militias.
In the last four months over 300 people have been killed and thousands displaced according to data released by The Para-Mallam Peace Foundation.
The claim by the BYM of forceful occupation of communities belonging to the natives in Riyom and other parts of the state is an angle the state government must look into with immediate alacrity and get the natives returned to their original communities if peace is to return to the Plateau anytime soon.