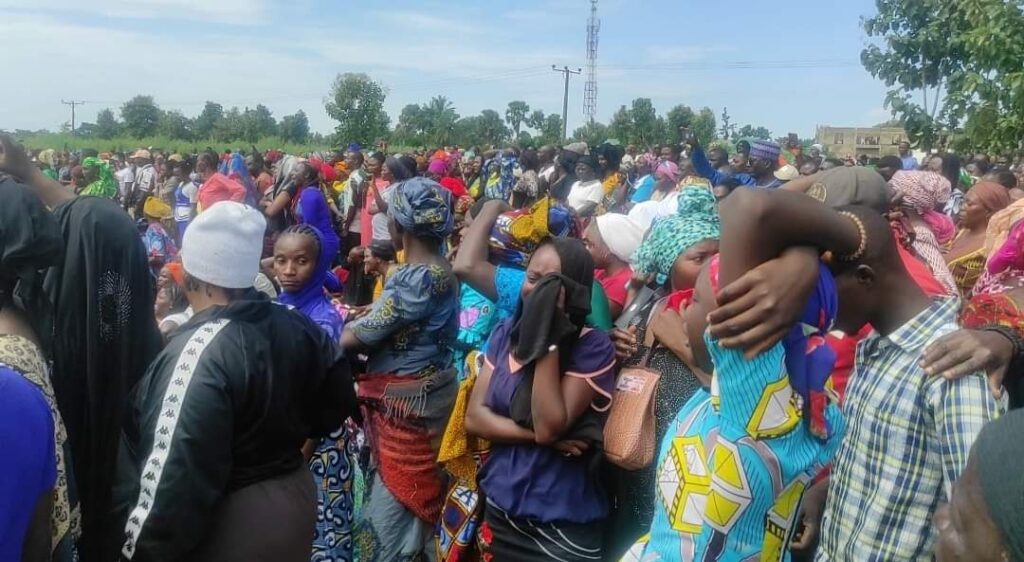 Survivors who are now internally displaced persons (IDPs) as a result of the September 26 deadly terrorist herdsmen attack which rocked Madamai and Abun communities are still living in extreme fear due to absence of security personnel in the communities.

Middle Belt Times had reported how 38 villagers were massacred in a barbaric manner by terrorists suspected to be Fulani herdsmen militia during a Sunday, September 26 attack on the agrarian communities.
Investigation carried out by this newspaper revealed that two weeks after the terror group killed 38 persons and burnt down at least 40 houses, the over 3,000 survivors who are now IDPs are living in extreme fear and uncertainties as the government has refused to deploy security to the area.
Anthony Timothy, A Kaura youth Coalition official told this reporter that the two Communities of Madamai and Abun have been completely deserted.
"The people no longer live there, only the brave men stay there to watch over what was left by the terrorists while the women, children and others who are vulnerable return to Mallagum every evening to sleep." He said.
Timothy further said that some of the displaced persons have had to relocate to Kagoro and Kwoi towns to seek refuge in relative's homes.
"Some who have relatives in Kagoro have gone to live with them, some even went as far as Kwoi town to stay."
This reporter also spoke with the Catholic Priest of St. Thomas Parish, Mallagum, Rev. Fr Cosmos Magaji who lost many parishioners to the attack. Fr Magaji who had to flee the community after threats to his life were made by yet to be identified persons said the current situation 'is disturbing'.
"As I speak to you now, the people are still displaced, they cannot go back to their ancestral communities for fear of the unknown.
"Plans were on ground to have them all under one IDP camp. The caretaker chairperson of the local government approved a primary school to be used as a makeshift IDP camp but the challenge is that the police has refused to deploy security to enable the proposed camp kickstart.
"I was informed that the Police Area Commander in charge of Kafanchan area said he cannot deploy policemen to any camp that is not fenced.
"In the whole of this area there is no school that is fenced, so what do they want the displaced persons to do?." Fr Magaji said.
The Priest also complained about the inadequacy of relief materials supplied by the Kaduna State Emergency Management Agency (SEMA).
"SEMA actually brought some relief materials but it is very inadequate considering the number of persons affected. Magaji said.
The items brought by SEMA as confirmed by MBT from the Priest includes;
60 bags 10kg Rice
20 cartoons of indomie
20 pieces of 6inches mattresses
10 jerricans of10 litres Palm oil
10 jerricans of 10litres ground nut oil.
When contacted, the SEMA Director of Relief and Disaster Management, Mr Ya'u told this reporter via telephone that the Agency is not comfortable with setting up IDP camps in the area for obvious reasons such as security. Ya'u also said the Agency has learnt from experience that IDP camps are often abused and exploited negatively by those he called criminals who used IDP camps for selfish interests.
"As an Agency, we are not encouraging people to gather in IDP camps, this is because we do not know who the attackers are and having them in camps could further endanger their lives.
"What we advise for now is that people should move in and live in neighbouring communities while we continue to assist them with relief materials to alleviate their sufferings.
"We are also in touch with his Excellency the governor of the state to provide the communities with building materials so they can rebuild and return to their communities as soon as possible." Ya'u said.
The Director also said that the Agency is at the moment working on being proactive instead of always reacting to emergency situations.
"As an Agency, we do not just want to be providing relief materials, we want to prevent situations that could lead to emergencies in the state.
"We are working hand in hand with the Kaduna Peace Commission and communities in the state to identify the problems and possibly tackle them before they become emergency situations." He said.
When contacted the Area Commander of Kafanchan, ACP Danladi Ibrahim denied the allegations of refusing to deploy Security to the camp saying no such camp has been set up.
"Our duty is to deploy security, we cannot say we will not send security to the area.
"The question is, have setup any IDP camp? The arrangement is between them and the caretaker chairperson of the local government.
"When they set up a camp and inform us, of course we will deploy security to the camp." He said.
As at the time of filing this report, all efforts to get the Caretaker chairperson of Kaura local government area, Mrs Naomi Anguwa to comment on the matter proved abortive as her calls were neither taken nor returned. An SMS sent to her line was also not immediately replied.