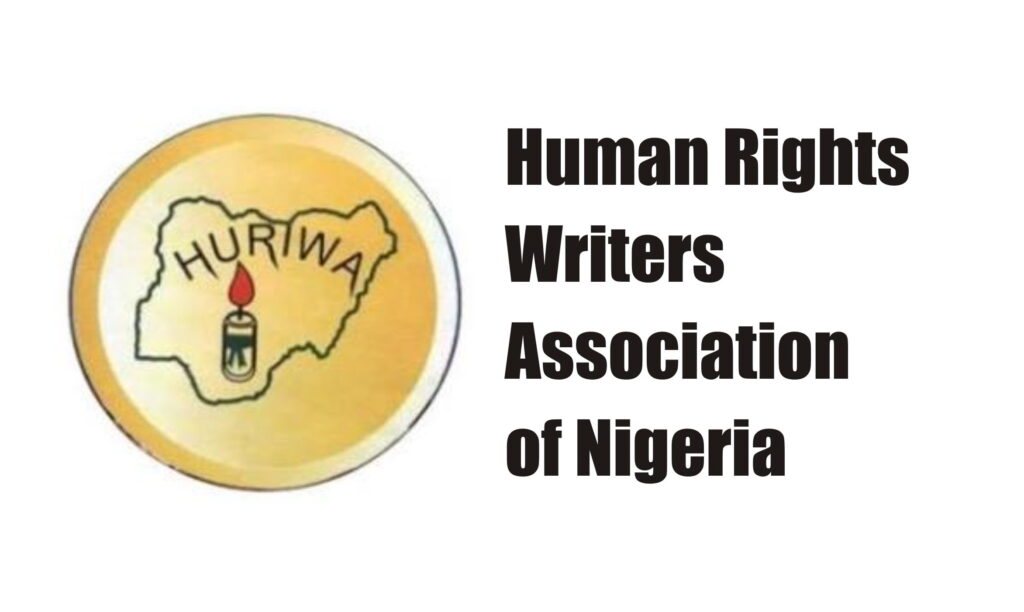 Federal Government's Double Standards In Law Enforcement Is Terrorism
HUMAN RIGHTS WRITERS ASSOCIATION OF NIGERIA (HURIWA) is by this media event raising alarm to the World that the lives of HUMAN RIGHTS ACTIVISTS who advocate on a consistent basis, the need for decisive actions against terrorists to be adopted by the Federal Government of Nigeria are under threats in Nigeria.

Federal Government has deliberately undermined the functionality of institutions set up to tackle insecurity.
All the armed security forces are now diluted and sabotaged. Gentlemen and ladies, Economist Magazine is factually accurate and very professional on its reportage on Nigeria in their current edition. The criticisms by federal government and Army targeted at the British Newspaper is pig headed. Army and federal government know that what the Economist alleged are factual. This is because there are documentary evidence to show that there are molested saboteurs within the military who are undermining the war on terror. Many of such found out have been court marshalled. Many who are yet to be found out may still be there. Why is the Army angry that Economist stated the obvious? Corruption is beyond human imagination now and the President wine and dine with major accused persons who are being prosecuted by EFCC but decided to cross carpet to the APC. The other day the EFCC CHAIRMAN COLLAPSED OR SO IT SEEMED INSIDE ASO-ROCK ON THE DSY FEMI FANI KAYODE WAS DELIVERED TO APC INSIDE THE VILLA BY THE MAN WHO ABANDONED HIS STATE AS THE EKECTED GOVERNOR TO PLAY TGE ILLEGAL ROLE OF EXECUTICE CHAIRMAN of APC. So why is the government that Economist said what is obvious?
Security institutions now work like sectional security outfits set up to attack those who don't share religious and ethnic affiliations with heads of security services. Federal Ministry of justice is run like a tribal machinery of the Fulani.
We are raising this alarm that our lives as advocates of social justice are under threats because key government officials do not believe that terrorists should be decisively dealth with.
We want to bring the attention of the World that the Central government works to undermine the principles of Rule of Law and the centrality of the sanctity of the Constitution.
The government has taken the practice of double standards in law enforcement to a dangerous levels.
Examples are:- the case of Nnamdi Kanu, Sunday Igboho vis-à-vis the armed Fulani militia unleashing terror and violence all over the nation with North west as the major focus.
The federal government kidnapped Nnamdi Kanu allegedly in Kenya over charges of treasonable felony.
The reason the government is given is that he made broadcasts from UK threateningfire and Brimstone from far away United Kingdom.
The government sent out DSS to attack Sunday Igboho house in Ibadan because he is seeking self government of the Yoruba race but armed terrorists in North East who are mostly Fulani are pampered.
Government said they got the accounts of Sunday Igboho and has made outrageous charges against Nnamdi Kanu who they kidnapped from Kenya against International Law.
Government ordered several military strikes against ESN in Orlu that was set up by Igbo youth to protect native lands from the attacks of armed Fulani terrorists but government has till date failed to publish names of sponsors of Boko haram terrorists and armed Fulani terrorists and has released high valued boko haram terrorists under the criminal guise of resettlement and reintegration. Meanwhile the victims of terrorism are helpless including many widowed wives and husbands of soldiers killed by the terrorists.
Government called IPOB terrorists and went to Federal High Court through ex- parte application to get the court to declare it as a terrorist group. This decision is being challenged but nobody knows if the case is going on or not. The Defendant is so overwhelmed that they themselves haven't told Nigerians the status of that case.
But the same government has refused to declare Fulani terrorist as terrorists but say they are just armed bandits. The houseboys of the executive arm of government called National Assembly legislators and 36 states Speakers of the Houses of Assembly have asked for Fulani militia to be called terrorists yet government is defending these terrorists and refusing to call them terrorists. The information minister even tried to rationalise this illegality and double standards by saying that those who kidnap school children in the North, rape them, kill villagers and destroy towns and villages and shut down a multimillion Naira worth Airforce jet are not terrorists because they don't have flags like IPOB. LAUGHABLE AND IMBECILIC.
This is double standard and outrageous. Many members of IPOB not seen or known to even carry caterpault talk more of guns have been arrested, detained and physically tortured including even girlfriends of those suspected to be members of IPOB. Any Igbo youths can be killed by Army for being IPOB because government thinks every Igbo man is IPOB. Senseless conclusion.
Same government refused to arrest Sheikh Ahmad Gumi who through the media has canvassed support for terrorists who even the government support because government refuse to classify them as terrorists only because they share Fulani Islamic affiliation with the holders of power.
These persons who openly back terrorists now have the effrontery to attack in the media even journalists who call for their arrest.
This is what Gumi wrote about HURIWA which might be a coded signal that his boys may attack us:
HURIWA: another bunch of clowns! Says Ahmad Gumi in his Facebook page and stated thus:
"It is a folly to respond to every imbecile especially in matters of national and public interest since not every person has the cognitive perception and the faculty to analyze things that are congruent or incompatible with our general wellbeing.
However, HURIWA is a notoriously bigoted organization parading itself as a vanguard of citizens' rights, when all its calls are paradoxically the denial of such rights. One wonders who they are working for. A bunch of clowns no Nigerian should take seriously.
Let the 'Human Rights Writers Association of Nigeria' know that in Nigeria, the Freedom of speech and expression is a fundamental constitutional right of every citizen to speak on national issues without hindrance or suppression.
Article number: 38, subsection: (1) of our constitution states: "Every person shall be entitled to freedom of expression, including freedom to hold opinions and to receive and impart ideas and information without interference." I rest my case!"
THE FOLLOWING PUBLICATIONS ARE HOW GUMI HAD DEFENDED THE FULANI TERRORISTS.
Gumi, an outspoken Islamic scholar has been at the forefront of negotiations with the bandits often visiting them in the forests.
According to Gumi, the bandits will refuse to surrender if the Press keeps referring to them as criminals.
He stated this on Wednesday when he made an appearance on ARISE News.
"You are emphasising on criminality, I don't know. Even the Press (journalists) are criminals too because they are putting oil into fire. These people are listening to you, don't address them as criminals if you want them to succumb," the Sheikh told ARISE News.
"Youths are ready to put down their weapons, now they are hearing you call them criminals, how do you want them to cooperate. So you have to show them that they are Nigerians and that they should not hurt children and that they should be law abiding, these are the language we want to hear from the Press to assist us in getting the boys.
"When we talk to them in nice a wordings they are ready to put their weapons down, they are ready to listen to us, but when the language is about criminality, kill them, jail them, then this is what we will end up having," Gumi added. (https://www.arise.tv/)
Islamic cleric Sheikh Gumi has declared that Nigeria is fighting a tribal war, calling for amnesty for bandits if they must quit their criminal acts.
He specifically urged farmers across the country to allow herdsmen to protect their forests.
According to Gumi, with the ongoing tribal war, the federal government is supposed to remain neutral.
The islamic scholar, while admitting that the bandits are committing all sorts of crimes, also said that atrocities have been committed against them by various tribes across Nigeria.
"What you call banditry, when you cross to the other side, you discover Nigeria is fighting a tribal war and government is supposed to be the mediator, it is supposed to be neutral, it's not supposed to take sides," Gumi said on Arise TV on Wednesday morning.
"But the moment government takes side, it becomes part of the conflict. And this is what I saw in Zamfara State, in Niger State and other states.
"This is tribal war going on and the government taking one side.
"When you said these bandits are committing atrocities, yes, agree they are committing crimes, they are killing people, they are kidnapping, they are raping, they are doing all sorts of atrocities.
"But, have you for once go to their own sides to see all sorts of atrocities that are also committed against them?
"Do you know that an ordinary herdsman is lynched in many towns in Nigeria? We have seen that in Oyo, we have seen that in Anambra, we have seen that in many regions of Nigeria.
"I think there should be well meaning Nigerians that should stay neutral in this tribal war."
Insisting on his call for amnesty for the bandits, Gumi said they are ready to surrender if government will provide means of livelihood for them.
"The Niger Delta example, I think we can take example from that. When they were vandalising pipelines, they were given the pipelines to guard.
"Now, the herdsmen are controlling a big chunk of land whereby they are preventing farmers from farming. As the Niger Delta is important to the economy, these herdsmen now are becoming important to the Nigerian economy.
"They can be our guards, they can guard the forests. They have qualities that we can tap from," Gumi said.
He dismissed the amnesty granted to bandits by Katsina State Governor Bello Masari, describing it "political amnesty" without any package.
"When you grant a political amnesty, I mean amnesty in the front of the press and the media but in the real sense there was no amnesty.
"Amnesty comes with a package. The package is you rehabilitate these criminals, you provide for them social amenities.
"You entice then to leave the forests by providing them with skills. But there is no any project put forward."
Controversial Islamic scholar, Ahmad Gumi, has warned President Muhammadu Buhari and the federal government not to declare bandits killing and abducting people in the North as terrorists.
The Sunni scholar said declaring them as terrorists would come with a big price.
Mr Gumi, an ex -soldier and medical doctor, has been campaigning for amnesty for the outlaws terrorising states in the north-west and some part of north-central Nigeria.
He had been to forests in Kaduna, Niger, Katsina, Sokoto and Zamfara States to meet with governors and some notorious bandits with a view to striking a peace deal with the outlaws.
Recently, some Nigerians, including Governor Aminu Masari of Katsina and the forum of House of Assembly Speakers, urged the fedral govrrnment to declare the bandits as terrorists. The Senate had also made a similar call in September.
Citing reason such a declaration was necessary, Kaduna State Governor Nasir El-Rufai said it would enable the military to go all out against them without the fear or running foul of intrrnational laws.
But reacting to the calls, Mr Gumi posted on his Facebook page that it would be deadly.
Nobody doubts that sentimentalism today overrides sensibility in our polity. For the sake of posterity, some people will have to speak out.
The acts the Bandits are committing now in NW have gradually over time become tantamount to terrorism because wherever innocent people are fatal victims it's pure terrorism. Yet, innocence these days is relative. We agreed if their children and women are also killed, they are guilty by association or collateral damage, so also the bandits may think the same way. It's right for vigilantes to lynch Fulanis herdsmen or anyone that looks like them by profiling but wrong for the herdsmen to ransack villages in retribution. They are pushed to believe it is an existential war and in war, ethics are thrown to the winds.
Yet again, the only helpful part that is against Bandits is that no other than them are attracted to join them in the NW because of its ethnic tinge and coloration. However, the moment they are termed Terrorist – Islamic for that matter, the direct foreign Jihadist movements will set in in force. And many teaming unemployed youths may find it palatable and attractive. Shouting 'Allahu Akbar' plus AK47 against a 'secular' immoral society where impunity reigns are the magnet for extremists and downtrodden – the majority of our youth. Already these deadly terrorist groups are fighting for the soul of these bandits. This will give criminality a spiritual cover and remove the stigma of discrediting them with such crimes since now they are fighting a 'Jihad' as they will claim. In such a situation, does the larger society -as it is- has the moral high ground to fight back? This is the most probable consequence, the price of which is not worth it. Nothing stops the kinetic actions from going on without the controversy of semantics.
NE is already and is still devastated by this madness for over 12 years. If we allow, terror, to set in into these raw naïve unexposed bandits, NW will be in ruins sooner than later. Already IPOB are destroying SE, and Igboho has set the ball of confusion rolling in SW. For those who want to destroy the NW, it's a good recipe. Turn bandits into religious zealots. Tell me, what then remains of Nigeria?
I have started to get these raw bandits out of their misadventure but unfortunately, I have few helpers and a mountain of antagonists. The psychology in fighting natives is to induce a motive for their struggle if they don't have one already, a motive that is manageable, and it is so managed. Unfortunately, reactions to threat in our nation is always slow and incoherent.
I hope another Igbo clergy goes into the IPOB militants likewise and talk sense into them, and another Pastor of Oduduwa land talks against the Igboho secessionist tribal movement by way of sensitizing people to the values of a cohesive nationalism that will guaranty freedom, equality, and justice for all. Religious forces can permeate hardened hearts where secular forces cannot.
Regrettably, people just sit down in the comfort of their rooms or parlors and make useless passing comments that only add fuel to the inferno of ethnic jingoism and bigotry. In the 21st century, Nigeria is hijacked by semi-illiterates and half-baked tribal heroes that have nothing to offer besides promoting tribal xenophobia. Nigeria has over 250 ethnic groupings, it's not possible to divide such a nation into tribal enclaves. Nigeria is multi-religious, even with one same religion or sect there is no harmony and understanding that can build a prosperous unified nation where tranquility and development will flourish. We are tired of these bogus destructive fruitless slogans! (premiumtimesng.com)
Controversial Islamic cleric, Ahmad Gumi, has again condemned the ongoing military onslaughts against armed bandits in Zamfara and others Northwest states of Nigeria.
Mr Gumi said only residents of the adjoining states are suffering the effects of the military action in Zamfara, as the bandits have since allegedly escaped.
"By the way, what you may not hear is that the bandits over the years have developed escape routes from aerial bombardments. They told us: you can only kill our women and children with your attacks!", the cleric posted on his verified Facebook page.
He continued: "Just yesterday (Thursday), two contingents of banditry victims came to me that their loved ones were abducted by bandits in Kaduna suburbs – Rigachukun and Keke. An escapee engineer in the later said when he overheard and understood that they (bandits) were strangers in the area as they were calling the locals to lead them, that gave him the courage to slip through densely grown maize plantations to escape.
"The point is that, if Zamfara is on fire for them, definitely it goes without saying that they will migrate to other areas. So, is the whole of Nigeria going to be under lock-up in incommunicado? (sic)," Mr Gumi queried.
"War has never been the solution anywhere anytime" he said, urging the Nigerian government to grant an amnesty to the bandits.
Mr Gumi had visited some bandits in their forest hideouts and has consistently advised the government to negotiate with them in order to bring an end to banditry in the region.
Zamfara State Governor Bello Matawalle and his counterparts in Katsina had engaged bandits in their state in dialogue but the approach failed to end the menace. They have now withdrawn from the process and endorsed military actions.
Also, Kaduna State Governor Nasir El-Rufai and his Niger State counterpart, Abubakar Sani, are also opposed to dialogue with the outlaws.
The cleric denied that he has sympathy for the criminals. Rather, he said his concern is for "his country, his state and humanity.
"I am a qualified Medical Doctor who knows what it takes to precisely excise a brain tumour without destroying the delicate surrounding brain tissues. I was a commissioned military officer who knows what the military is for and what is the capability of our military. I am an intellectual with a Ph.D. from Abroad. I am an Islamic scholar who knows the immorality of killing innocent lives. So, silence for me in this ocean of oblivion is not an option," Mr Gumi said.
He added that "a sensible person would not allow his dwelling to be a theatre of war," adding, "killing rats in your rat-infested sitting room with an iron rod will only end up destroying your gadgets and furniture probably without killing any. We should not mask out poor governance with artillery power."
Peace mission
"My mission has not failed but it was sabotaged or discouraged by the same influential people that benefit from the chaos or like us to destroy ourselves and leave the herdsmen in perpetual ignorance," Mr Gumi continued.
"Some said we have tried amnesty but it didn't work. You didn't try amnesty but tried amnesia. Amnesty without rehabilitation, reconciliation, and reparation is no amnesty. Ask the former Niger Delta Militants who killed security men in the past what an amnesty is. What stops us from having a federal ministry of Nomadic Affairs where their grievances and complaints will be addressed?
"All the bandit leaders we saw complained of how some repentant ones were picked and extra-judicially killed after the surrender of their weapons. Without their trust of the very unjust system all Nigerians complain of, which they took arms to fight, peace and negotiations with them will not work. This brings our role of mediation.
"They (bandits) know as religious men we will not deceive them, and they came out in troops to meet us. To our astonishment, it is the same unjust system that turns round to betray our peace mission. Some of the press for giving a negative narrative, whom I also term criminals-in-purpose.
"Some of the politicians who I see as urban-bandits who, out of their share mismanagement of our meagre resources and misplacement of priority, cause the death and infirmity of more people than the bandits affect.
"Of recent, how many Nigerians die of cholera -a water-born disease- because of lack of simple clean water to drink, or typhoid, malaria, and malnutrition? A nation with a maternal mortality rate of almost 500000/annum because of the lack of adequate maternal health facilities and qualified staff. A country where its highly-priced medical personnel is looking for a window to escape the inferno. Such a country, please!
"As for the economic impact of the areas now under siege, it's just a matter of time, you'll hear them crying out. Already yesterday a man from Tsafe came begging because of economic stagnation, one would have thought that Gusau the capital is closer than Kaduna to beg.
"As for those cynics that have no value to add in the dilemma except vituperation, and abuses, we know that is the substance they are made up of. No qualms whatsoever! you don't expect fragrance from faeces," Mr Gumi said.
So, what is the solution?
"Good Intelligence! Good proficient policing, engagement of the local herdsmen in policing, rehabilitation, reconciliation, and reparation of all victims of banditry.
"The good, honest judiciary that protects people's rights. Money and time well spent on these will surely kill the disease and heal the nation of this delinquency, crimes, and bad governance," he concluded. (premiumtimesng.com)
GOVERNMENT OFFICIALS BACK HIM THUS:
Abba Monguno, national security adviser (NSA), says Ahmad Gumi, Islamic cleric, has offered to help the government in tackling insecurity.
Gumi who has been meeting with suspected bandits terrorising communities in the north-west and in the north-central had likened them to militants in the Niger-Delta, and asked that they are not tagged criminals.
He had also called on the federal government to grant blanket amnesty to the bandits.
At a state house briefing on Thursday, Monguno, while fielding questions from journalists, said he had met with Gumi, and that he is waiting to see how the cleric could help the government.
"Sheik Gumi is doing what he's doing because he believes in what he's doing. He's a Nigerian and under the constitution he can talk to anybody. He can deal with anybody," he said.
"I met with him when I went with the service chiefs to Kaduna, and we spoke generally during the meeting and he resolved to help government. We are waiting for him. That's all I can say."
The NSA said the government is not averse to holding talks with bandits, but that it cannot negotiate with people who are unreliable.
"While government is not averse to talking with these entities, it also has to fully apply its weight. You can't negotiate with people who are unreliable and who will continue to hurt society," he said.
"We will apply the full weight of the government to deal with these criminals.
"These are not people looking for anything that is genuine or legitimate, they're just out to take calculated measures to inflict pain and violence on innocent people. We must deal with them the way they need to be dealt with. We will fully assert the government's will."
The NSA also said President Muhammadu Buhari has directed that mercenaries must not be engaged in fighting insecurity in the country.
There have been calls by governors in the north-east for the federal government to engage mercenaries.
But Monguno said Nigeria has all the resources needed to fight, but has been underutilised.
"When this administration came in, it's true, we had these mercenaries helping out in the north-east. But the directive of the commander in chief is that we do not engage mercenaries when we have our own people to deal with this problem," he said.
"This is basically a presidential directive. And there are so many issues when you come to the issue of mercenaries. It has to do with the issue of national pride also. I know you'd say can pride be more of a concern than our security? I do understand that.
"But what we are looking at here is that we have the resources, it's just misapplication or underutilisation that has affected our ability to deal with these people." (thecable.ng).
The Nigerian Army and a popular Islamic cleric, Ahmad Gumi, on Wednesday disagreed over the latter's allegation that security agents were collaborating with bandits.
Gumi, while featuring on Morning Show, a programme on Arise TV, on Wednesday, alleged that a lot of those he described as bad elements in the nation's security forces were colluding with bandits.
The cleric stated that the bandits had been able to access assorted weapons that they used against Nigeria due to the cooperation of the security agents.
Gumi said these as The PUNCH learnt that at least 200 residents of Zamfara State had been killed in violent attacks despite an order by the President, MajorGeneral Muhammadu Buhari (retd.), declaring a 'no-fly-zone' over the state's airspace.
On his part, the Kaduna-based cleric alleged that the security agents were doing business with the security and lives of Nigerians
Gumi said, "These bandits, if you don't know, are cooperating with a lot of bad elements in our security system. This is a business. So many people are involved; you will be surprised.
"They were caught in Zamfara. They were caught everywhere. How do these big weapons cross our borders?
"How can these big weapons cross our borders and get into the forest without the cooperation of some bad elements of the security operatives assisting them? It is not possible.
"If I give you the same quantity of guns, can you take them to the UK? You can't, because the security is at alert. Part of fighting this banditry is to overhaul our security system."
He attributed the incessant banditry and herdsmen attacks across the country to tribal wars.
"What you call banditry, when you cross to the other side, you find out Nigeria is fighting a tribal war," he said.
Gumi, who admitted that bandits commit atrocities, also accused the government at all levels of taking sides in the raging attacks on Nigerian communities.
"When you said these bandits are committing atrocities, yes, agree they are committing crimes. They are killing people. They are raping. They are doing all sorts of atrocities.
"But, have you for once gone to their own sides and see all sorts of atrocities that are also committed against them?" he asked.
Gumi claimed that herdsmen had been lynched across the southern region, while specifically naming Anambra and Oyo states.
The prominent cleric believes that the government should be neutral, rather than taking sides in addressing banditry and herdsmen attacks.
He stated, "The moment government takes sides, it becomes part of the conflict. And this is what I saw in Zamfara State, in Niger State and other states.
"It is very unfortunate that in the 21st century because of the fracture in our governmental structure people have turned to tribalism or religion originality to express their grievances," he lamented.
He described the amnesty granted to bandits by the Katsina State Governor Bello Masari as "a political amnesty without any package."
Gumi said "You granted a political amnesty, I mean an amnesty in the front of the media but in the real sense there was no amnesty.
"Amnesty comes with a package," he maintained, stating that "the package is that you rehabilitate these criminals, you provide them social amenities."
Allegation, attempt to undermine troops, denigrate military – Army
But the Army denied the allegation made by Gumi.
The Director of Army Public Relations, Onyema Nwachukwu, in a statement on Wednesday, described the claim by the cleric as a calculated attempt to undermine the sacrifices of the troops aimed at restoring peace in the country.
The statement was titled 'Nigerian Army not colluding with bandits.'
It read, "The Nigerian Army has just been alerted to a submission by Sheikh Ahmad Abubakar Gumi when he featured on ARISE TV Morning Show on Wednesday, June23, 2021 alleging that the Nigerian military is colluding with marauding bandits who have been responsible for various crimes and atrocities against Nigerians and the Nigerian state.
"The Nigerian Army wishes to state that contrary to Sheik Gumi's claims, the Nigerian Army remains a bona fide symbol of national unity that has conducted its constitutional responsibilities in the most professional manner in line with global best practices of adherence to the rules of engagement and protection of the fundamental human rights of the citizenry.
"The sweeping allegation peddled by the scholar is not only sad and unfortunate, but a calculated attempt to denigrate the Nigerian military and undermine the sacrifices of our patriotic troops, who are working tirelessly to restore peace and stability across the country."
Onyema stated that the military accused of connivance recently put their lives on the line to rescue abductees of the Government Secondary School, Birnin Yawuri from bandits.
He added, "While the NA will not attempt to excuse the possibility of black sheep amongst its fold, it must be stated unambiguously that it will not condone any form of sabotage or aiding and assisting the enemy by any personnel, as provisions for dealing decisively with such acts are crystallised in Section 45 (1) of the Armed Forces Act CAP A 20 Laws of the Federation of Nigeria 2004.
"It must also be pointed out that while the military is very much receptive to constructive criticism, it should not be perceived as a gateway for derogatory comments that have the potential to embolden criminals. It is also necessary to reiterate that patriotism must be taken to a trajectory where subversive conversations on the state are brought to the barest minimum.
"Opinion leaders are enjoined to demonstrate patriotism in building the peace, rather than being agents of destabilisation, thereby aggravating the current security challenges facing the nation.
"The Nigerian Army wishes to reassure law abiding citizens, that troops will continue to conduct themselves professionally in consonance with the code of conduct guiding our operations in all combat engagements, in line with the provisions of the Nigerian Constitution and global best practice."
Over 200 killed in Zamfara despite Buhari's no-fly-order
A tally by The PUNCH shows that 200 residents of Zamfara State have been killed in violent attacks despite a 'no-fly-zone' declared over the state's airspace.
The National Security Adviser, BabaganaMonguno, had on March 2, 2021, conveyed the President's no-fly-order which was done in a bid to end banditry in the gold-rich state.
Seeking to put an end to banditry that has ravaged Zamfara State and other parts of the North-West and North-Central states, Buhari declared the state a no-fly-zone and placed a ban on all mining activities.
A no-fly zone is a territory established by a military power over which certain aircraft are not permitted to fly.
Presidency officials had told The PUNCH that Buhari was shocked that some of the foreign illegal miners were linked to acts of banditry and the Zamfara State government simply ignored the destruction of some villages where the mining takes place and tolerated the use of choppers in and out to facilitate illegal mining.
The traditional rulers in the state told service chiefs, who visited the state, that there were over 30,000 bandits in Zamfara forests, a number that far outweighs the less than 10,000 troops deployed in the state to tackle insecurity.
A tally by The PUNCH, however, showed that at least 200 people had been killed by bandits since the no-fly-zone came into effect in March even as states sharing boundaries with Zamfara such as Kaduna, Niger and Kebbi had continued to witness killings and abductions.
On March 3, a day after the no-fly-order came into effect, about 50 persons were abducted while several houses were burnt in an attack on Tungar Baushe community in Mutunji district, Maru Local Government Area of the state but no deaths were reported.
On March 17, eight persons, including three soldiers and five civilians, were killed by terrorists at Kasaba village, Magami district, Maru Local Government Area, Zamfara State, an act which was condemned by the governor in a statement signed by his Commissioner for Information, Ibrahim Dosara.
Some of the bandits were also reported to have been killed by the military. The Nigerian Army said on May 10 that its troops killed 48 bandits operating across different camps in the Maru local government area of the state.
On April 21, however, about 90 persons were killed during separate attacks in Gusau, Maradun and Bakura local government areas. Many of the victims were said to be vigilantes. While 62 corpses were immediately recovered, residents stated that the death toll rose to 90 the following day.
Over 100 bandits were reported to have stormed Dansadau Town on May 18, stealing over 300 cows and looting shops but no deaths were reported.
However, on May 22, bandits killed 21 people including two policemen in Gabaken, Rigiya, Donroyi, Torawa, and Riwoji all located in the Zurmi and Kaura Namoda local government areas of the state.
On May 24, gunmen on motorcycles invaded Dandamji, Gidan Runji, Doka, Yanmadanga and Yarkatsina villages killing at least 10 people. The police, however, claimed to have killed 10 of the bandits as well.
Bandits killed about 12 farmers and injured nine others in attacks in the Gusau Local Government Area on June 3.
On June 12, about 54 villagers were killed in an attack on five communities in Zurmi village. The residents were reported to have taken some of the corpses to the palace of the village traditional ruler to protest.
FG should assess impact of no-fly-zone – Zamfara
When contacted, the Special Adviser to Governor Bello Matawalle on Public Enlightenment Media and Communication, Alhaji Zailani Bappa, said the question on whether the no-fly-zone order had reduced killings and kidnapping in Zamfara State should be directed to the Federal Government.
Bappa said the Federal Government has enforced the no fly zone order aimed at restoring peace in the state as such it should be asked whether the order has made an impact.
"You should direct your question to the Federal Government no know whether the no fly zone order has stopped the killings and kidnapping of people in the state".
"Zamfara State Government is not supposed to say whether the order has made an impact or not because it was not responsible for that".
"As a journalist, you can make your own assessment through investigation to find out whether the order has stopped the killings and kidnapping of people in the state," said Bappa.
Speaking with The PUNCH on Wednesday, the Country Director of Amnesty International, Ms. Osai Ojigho, said it was very sad that Zamfara and other states were still seeing high numbers of people who had been killed, lost their homes and displaced as a result of the violence.
Ojigho added, "One of the things we are getting from the ground is that many of these areas are dominated by a strong military presence but there is a slow response in terms of engaging the bandits, criminals whatever you want to call them in these communities and it is due to years of failing to find long lasting solutions to this crisis."
In his reaction, however, the Director, Army Information, Brig. Gen.Onyema Nwachukwu, said the army had averted many attacks in Zamfara State and had bombarded the hideouts of bandits.
He, however, urged residents to assist the military with credible information on security.
Nwachukwu said, "As we speak, troops of the Nigerian Army under the aegies of Operation Hadarin Daji in the North West are conducting aggressive clearance operations on suspected bandits' enclaves.
"Stop and search operations are also ongoing, to fish out fleeing bandits and intercept flow of illegal arms and ammunition. Troops are equally maintaining blocking positions to deny the bandits freedom of action." (PUNCH).
CHIEF OF ARMY STAFF BACKS GUMI THUS-:
The Chief of Defense Staff (CDS), General Lucky Irabor, has revealed the reason why controversial Islamic cleric, Sheik Ahmad Gumi, has not been arrested.
Irabor said the Nigerian military cannot arrest Gumi because the cleric is playing his part in restoring peace to the North and in the resolution of the fight against insecurity.
He said this on Thursday while speaking at the ministerial briefing organised by the presidential communications team at the Presidential Villa, Abuja.
Irabor stated that the military welcomes any help in combating the bandits and terrorists, adding that the military did not employ the cleric.
He added that the help is acceptable as long as such interventions are not contrary or inhibiting the operations of the military.
The Defence chief noted that interacting with known bandits and advocating for amnesty for them is not a crime in the country.
Meanwhile, the Nigerian military on Thursday confirmed the killing of the leader of the Islamic State West Africa Province (ISWAP), Abu Musab Al-Barnawi.
Confirmed the killing, Irabor said: "I can authoritatively confirm to you that Abu Musab is dead. As simple as that. He is dead and remains dead."
Naija News had reported that Al-Barnawi was killed in the last week of August.
Al-Barnawi was the son of Boko Haram founder, Mohammed Yusuf who was also killed by security forces in 2009 when he launched a war against the Nigerian state. (naijanews.com).
ILLEGALITY OF DOUBLE STANDARDS IN NIGERIA UNDER PRESIDENT MUHAMMADU BUHARI:
The zest exhibited with respect to dealing with IPOB members in Orlu and Ihiala, should therefore be extended to the north-western states. To do otherwise would give the impression that the Federal Government is applying double standards. Such practice would also give impetus to the conspiracy theorists of a hidden agenda, as the majority of the security heads are from the north-west zone, where palliatives instead of ammunition are being offered to bandits.
The Federal Government must therefore do everything to avoid giving the impression that crime pays in certain parts of the country. The consequences could be very devastating in the long run. Nation
The perception out there is that while the president is soft both in words and actions against the armed herdsmen that have been wreaking havoc in several rural communities across the country, he has been vehement and trident in condemning separatist groups, like IPOB. While the president is entitled to his private idiosyncrasies, he must exercise due diligence in matters of national importance and public perception.
Section 14(3) of the 1999 constitution (as amended) provides without equivocation that: "The composition of the government of the federation or any of its agencies and the conduct of its affairs shall be carried out in such a manner as to reflect the federal character of Nigeria and the need to promote national unity, and also to command national loyalty, thereby ensuring that there shall be no predominance of persons from a few state or from a few ethnic or other sectional groups in that government or in any of its agencies."
Will the minister say that the present government has obeyed this kernel provision of the 1999 constitution, as to reap the benefits envisaged by its obedience? With complaints against the lopsided appointments by the federal government, does it not follow that the federal government is engaged in double standards? Again, section 16(2)(a) of the constitution provides: "The state shall direct its policy towards ensuring: the promotion of a planned and balanced economic development."
One example. Considering the decision of the president to approve the establishment of a standard gauge railway line, an important factor of economic development, from his home state to a neighbouring country, while his minister for transportation is offering about one-half of the country the archaic and out-dated single gauge; would it not be appropriate to levy accusation of double standards against the government? Of course, such double standards will not enhance "federal character, promote national unity and also command national loyalty."
The greatest challenge faced by our dear country is that, a large chunk of her citizens have withdrawn their loyalty to the country, substantially because they perceive the country as being run on double standards. Of course, some of the challenges predate the government of President Buhari, but it appears to have been aggravated under his watch. For one, in a recent interview, the president vehemently denied the allegation of lopsided appointments, even as his opponents reel out statistics to counteract his assertion.
More importantly, since there are those who disagree with the perception of Mr President, the ideal reaction should be to engage the claimants in debates in sundry manners. If the president is convinced that his appointments are not lopsided, and that his military chiefs are appointed because of their proven field experiences, his men should present facts to counter those claiming otherwise. As the saying goes, facts are sacred.
Regardless of how angry the president has become, this column strongly advises him to change his strong-arm tactics in dealing with those who hold a different view as to how to resolve the lingering national questions. Of course, this column decries and condemns the orchestrated violence by non-state actors to pursue their misgivings against the government. But the president must realise that his dithering in correcting the anomaly, rather escalates the crisis.
With less than two years in power, substantial part of which he will be a lame-duck president, President Buhari must avoid being remembered as a dictatorial civilian president. If he does not rein in the war-mongers around him, the country may degenerate into chaos by the time the regime winds down. The international community may also make him and our country a pariah, for the excessive force currently on display, especially in the southeast, which amounts to abuse of the fundamental rights of Nigerian citizens.
The international community may also make him and our country a pariah, for the excessive force currently on display, especially in the southeast, which amounts to abuse of the fundamental rights of Nigerian citizens.
A double standard may arise if two or more groups who have equal legal rights are given different degrees of legal protection or representation. Such double standards are seen as unjustified because they violate a common maxim of modern legal jurisprudence – that all parties should stand equal before the law. Where judges are expected to be impartial, they must apply the same standards to all people, regardless of their own subjective biases or favoritism, based on: social class, rank, ethnicity, gender, sexual orientation, religion, age or other distinctions.
Ethnicity Edit
Double standards exist when people are preferred or rejected on the basis of their ethnicity in situations in which ethnicity is not a relevant or justifiable factor for discrimination (as might be the case for a cultural performance or ethnic ceremony).
The intentional efforts of some people to counteract racism and ethnic double standards can sometimes be interpreted by others as actually perpetuating racism and double standards among ethnic groups.
A double standard arises in politics when the treatment of the same political matters between two or more parties (such as the response to a public crisis or the allocation of funding) is handled differently. This could occur because of the nature of political relationships between those tasked with these matters, the degree of reward or power that stands to be gained/lost, or the personal biases/prejudices of politicians.
Double standard policies can include situations when a country's or commentator's assessment of the same phenomenon, process or event in international relations depends on their relationship with or attitude to the parties involved.
DECIDED CASE-: ABDULLAHI & ORS. V GOVERNMENT OF FEDERAL REPUBLIC OF NIGERIA & ORS. (ECW/CCJ/JUD/18/16) [2016] ECOWASCJ 55; (7 JUNE 2016).
Also, Rules that the arguments and defense of the Defendant are not supported by evidence, and accordingly, enters judgment against the Defendant for the illegal killings of the persons named and represented by the 1st Applicant and injuries caused to the 2nd to the 12th Applicants; And awards the sum of §200,000 (two hundred thousand United States Dollars) to each of the deceased families and §150,000.00 (one hundred and fifty thousand dollars) each to the 2nd to 12th
Applicants for injuries caused them by the agents of the Defendant.
AS TO COSTS.
The Court rules that costs are hereby awarded to the Applicants against the Defendant as assessed by the Registry of the Court.
Thus made, adjudged and pronounced in a public hearing at Abuja this day 7th day of June, 2016 by the Court of Justice of the Economic Community of West African States, ECOWAS.
Comrade Emmanuel Onwubiko; National Coordinator of HUMAN RIGHTS WRITERS ASSOCIATION OF NIGERIA (HURIWA).
Press briefing statement dated on 26th October, 2021.