… Terrorists destroyed bridge linking communities to prevent security from coming to help, residents say
No fewer than seven people have been confirmed killed, many houses and a bridge destroyed across three communities in Zangon Kataf local government area of Kaduna state after terrorists launched s deadly attack on Wednesday morning.

The communities attacked are; Zaman Dabo, Chibob and Sabon Kaura.
A source who gave his name as Timothy told this newspaper that the attackers invaded the communities in their hundreds and operated simultaneously across the three communities.
"The attacked the three villages at the same time. They were more than hundred in number.
"They operated for over two hours, burning several houses in the process. We cannot ascertain the number of houses burnt at the moment because the destruction was massive.
"They killed one person in Zaman Dabo and killed six in Chibob and Sabon Kaura.
"They also took their time to destroyed the only bridge kinking the communities." Timothy said.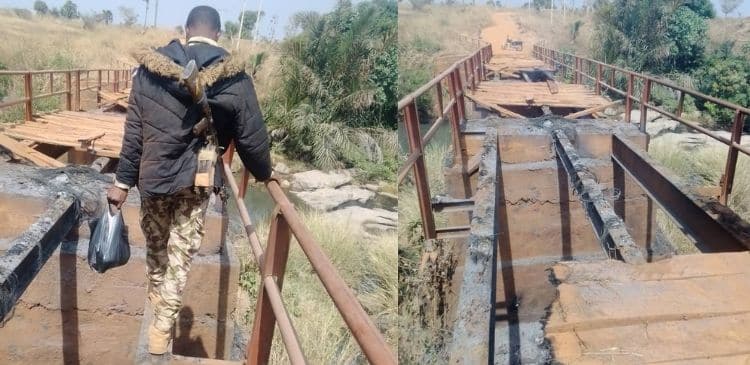 This is not the first time terrorists attacking communities in the Middle Belt region are destroying pedestrian bridges. In August 2021, terrorists burnt down a pedestrian bridges after a deadly attack that left scores dead in Yelwan Zangam community in Jos, Plateau state. The military said the destroyed bridge prevented them from accessing the community on time during the attack.
This newspaper had reported on Wednesday morning of an attack in Zaman Dabo even though details of casualties and destruction wasn't available as at that time.
The renewed attack in Southern Kaduna is causing panic as most residents are abandoning their communities for the IDP camps in Zonkwa, a youth leader told this newspaper on condition of anonymity.
"People are leaving their houses for the IDP camps in Zonkwa as we speak.
"The IDP camps are already overstretched at the moment but more people are trooping in for fear that their communities will be attacked soon." He said.
Resident of Zangon Kataf also confirmed that the security forces on ground are inadequate to tackle the rising cases of attacks in communities in the local government.