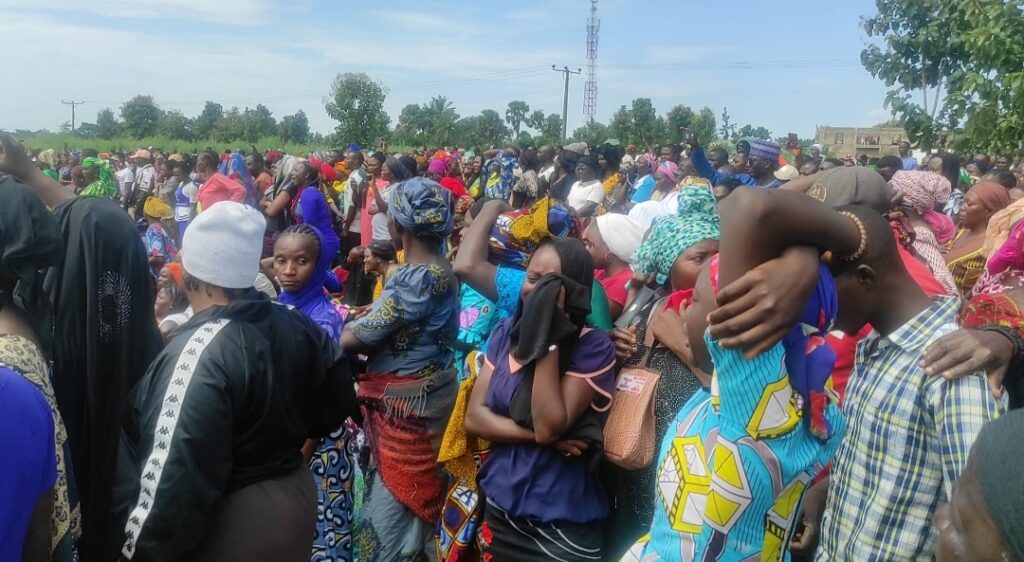 Human rights group, the International Society for Civil Liberties and the Rule of Law (Intersociety) has accused the Nigerian Muslim Jihadists of killing 4,400 Christians in the past nine months of 2021, a period of 270 days.

In a statement jointly signed by its Principal Officers: Emeka Umeagbalasi, Chinwe Umeche Esq., Obianuju Igboeli Esq., Chidimma Udegbunam, Esq., Intersociety also said that no fewer than 20 Christian clerics have also been killed or abducted by them within the period.
Condemning the raging and untamed anti-Christian genocidal killings and property violence, intersociety explained that the number of Christian worship centres severely attacked by the jihadists since January 2021 has risen to between 350 and 400, adding that not less than 3,500 traveller and sedentary Christians have also been abducted in the nine months of 2021 gone by; with several dozens of them feared killed in captivity.
Speaking on the perpetrators, Intersociety observed that the genocidal violent attacks against Christians in Nigeria have been elevated to a state policy-with the key perpetrators drawn from state actors (jihad enablers and perpetrators in the Government of Nigeria and its security forces) and non state actors (state protected armed jihadists).
It also explained that the non-state actor Jihadists are further divided into 'international' and 'local' wings.
"The local wing is comprised of Jihadist Fulani Herdsmen and Jihadist Fulani Bandits. The Fulani Herdsmen were infiltrated, armed with sophisticated with weapons and radicalized in early 2000s by the country's leading radical Muslims to perpetrate religio-sectarian mayhem in Plateau State (2001, 2004, 2007 and 2008) and Southern Kaduna and Benue State (from 2010 and upwards).
"In 2011, the group began to be transformed into instruments for jihad and politico-religious violence. By early 2016, the religious terror group fully transformed into Jihadist killer group and was massively deployed and used to unleash religious violence, hiding under the cover of cattle grazing and rural grazing routes and networks; through which they moved and occupied native farmlands and properties of the country's indigenous Christians.
"The Fulani Bandits, originally called 'Zamfara Bandits', on their part, were raised in 2011 in Maradun, Zamfara State to counter the growing radical influence of the indigenous Hausa 'Yankasai Vigilante'. The Jihadist group was initially infiltrated and hijacked by financiers of Zamafara illegal mining fields and later by leading Northern radical Muslim leaders including political office holders and senior security personnel.
The international wing of Nigerian Jihadist groups is comprised of Boko Haram and ISWAP and a litany of other internationally affiliated Jihadist group including Ansaru or Movement for the Emancipation of Black Muslims in West Africa. While Fulani herdsmen and Fulani bandits are made up of local terrorists, the Nigerian Government allowed alien Fulanis and acutely illiterate armed Hausa urchins, the Boko Haram, ISWAP, Ansaru and others made up of Kanuris, Bagara/Shuwa Arabs and Maghreb Muslim Jihadists and handful of armed, indoctrinated and radicalized Fulanis and Hausa urchins.
Intersociety alleged that in the past nine months of 2021, Jihadist Fulani Herdsmen were responsible for death of not less than 2,540 Christians, having between 1st January and 18th August 2021 killed 2,259 of them.
It also alleged that the Fulani Bandits, accounted for not less 600 Christian deaths and have targeted and killed Christians majorly in Niger, Kebbi, Taraba and Adamawa States as well as in Southern Kaduna where they killed jointly with Jihadist Fulani Herdsmen.
It also noted that the Jihadist Fulani Bandits accounted for most of the indigenous Hausa Muslim deaths in the Muslim dominated areas of Sokoto, Katsina, Kebbi, Niger, Northern Kaduna and Zamfara states.
It said ISWAP and other foreign affiliated Jihadists also accounted for more than 680 Christian deaths while Northern Muslim dominated and controlled security forces such as Nigerian Army and Nigeria Police Force accounted for the remaining 680 civilian Christian deaths.
(Daily Nigeria)