The Kaduna State government is threatening traditional titleholders of Zazzau Emirate with suspension for not attending a campaign meeting.

SaharaReporters learnt that Governor Nasir El-Rufai's government has already suspended a village head, identified as Sarkin Kwangila, under Sabon Gari Local GA, for not attending the meeting the governor organised on Wednesday, March 8, 2023, at Kongo Conference Hotel in Zaria.
A letter from the Zazzau Emirate Council inviting District Heads to Wednesday's meeting was obtained by Saharareporters.com.
The letter is titled, 'Invitation to a meeting with the Governor of Kaduna State, His Excellency, Nasil Ahmed El-Rufai at Congo Conference Hotel, Zaria'.
The letter signed by Ahmed D. Abdullahi, Shugaban Ma'aikata, reads, "Greetings and well wishes to you all. I'm directed to inform all District Heads under the Zazzau emirate that the governor of Kaduna state, His Excellency Malam Nasir Ahmed El-Rufai will have a meeting with them at Congo Conference Hotel as follows:
"Wednesday, March 8, 2023; by 11:am; Venue: A. B.U Hotel (Congo Conference Hotel) Gyallesu, Zaria.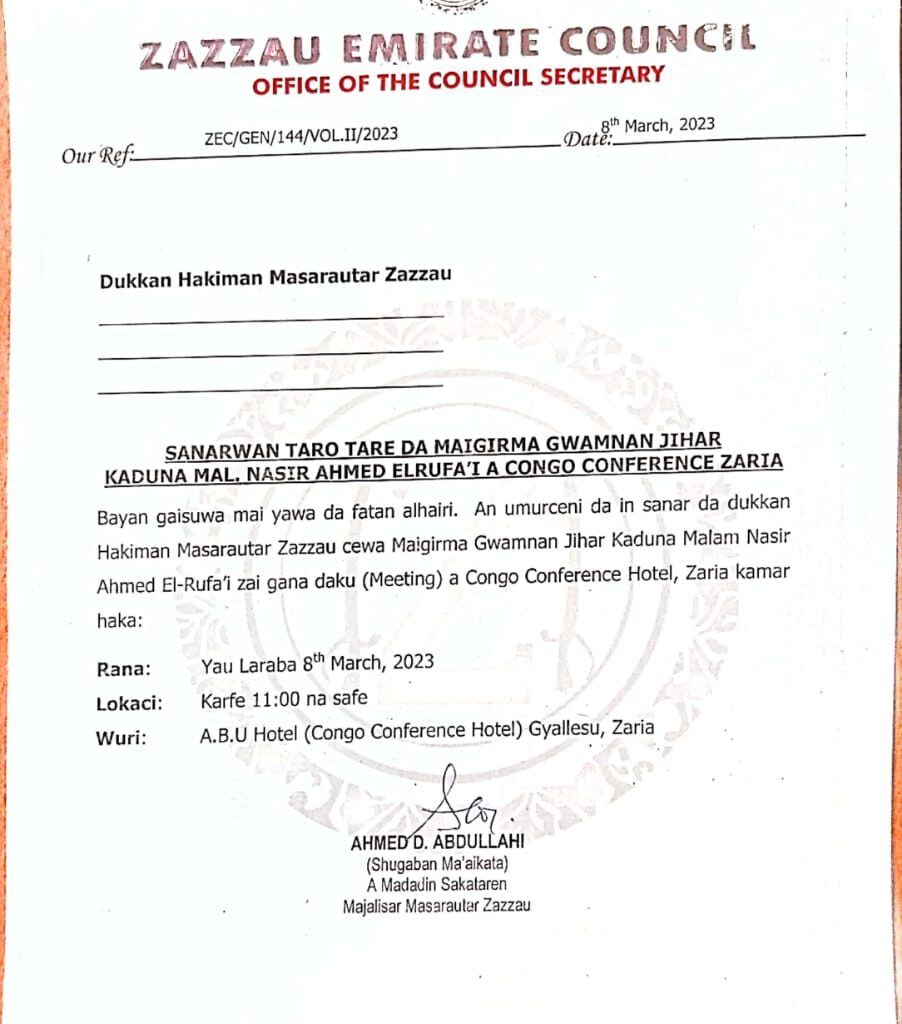 It was learnt that El-Rufai and the APC governorship candidate in the state, Uba Sani had compelled the titleholders to campaign for the party in the upcoming elections.
Uba Sani is contesting under a Muslim-Muslim ticket against Isa Ashiru Kudan, a traditional titleholder (Sarkin Bai Zazzau) under the Zazzau Emirate.
One of the titleholders who refused to attend is Madakin Zazzau, Alhaji Munir Jafaru.
SaharaReporters learnt that he has been resolute that he would not sell the APC to the people as they blame the party and the government for their poor living standards.
The protesting titleholders are against the Muslim-Muslim ticket because they feel Isa Ashiru is also a Muslim and a traditional titleholder under the Zazzau Emirate.
It was learnt that they supported the incumbent President, Muhammadu Buhari, who had a pastor as his running mate, Yemi Osinbajo.
The APC government has sacked over 313 district heads and 4,453 village heads in Kaduna since El-Rufai became Governor in 2015, it was further learnt.
Saharareporters