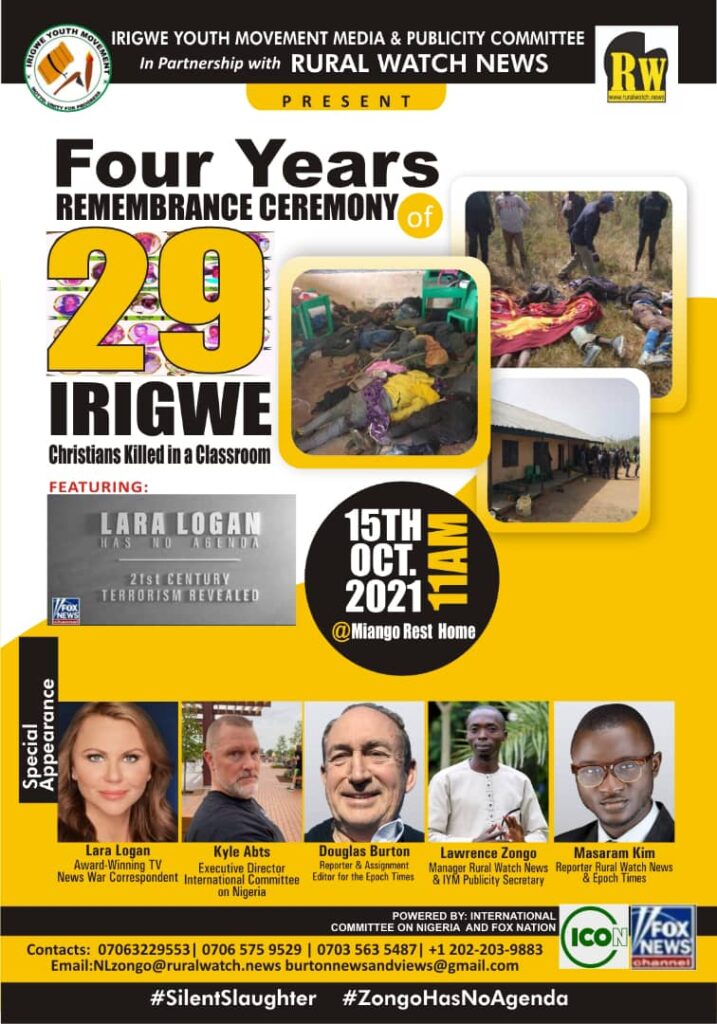 Faults Barak Obama for Subverting War on Terror in Nigeria
Self-taught journalists in the Jos metropolitan area are the featured truth tellers of a ground-breaking documentary on the Nigerian conflict produced by Fox Nation reporter Lara Logan. Lawrence Zongo and Masara Kim, Plateau State natives, collaborated for months with war correspondent Logan to make the 38-minute film, which is the Fox News corporation's first in-depth examination of the tragic loss of life some call Nigeria's "Silent Slaughter."

It will be reported at an invitation-only Press Conference in Miango on October 15 where elected lawmakers and community leaders will acknowledge the Rural Watch achievement.
The film has been excerpted in segments on the YouTube channel of ICON PSJ media: https://youtu.be/94bVIPo5yPI
Logan, known in the United States as an award-winning war correspondent, delves deeply into the views and motivation of five reporters associated with a group Zongo created called "Rural Watch." The mentor of the group is Washington-based editor Douglas Burton, who enables the Rural Watch writers to get published in The Epoch Times. Lawrence Zongo, a high-school history teacher and human rights activist, teamed with Masara Kim, a respected conflict reporter in Jos, Luka Binniyat in Kaduna, and Tom Garba in Adamawa as well as many others.
The film credits the Nigerian reporters for making the dangerous and painstaking trips into rural villages in the Middle Belt to get testimonies of the victims and their families. Logan takes pains to stir the conscience of the West, long accused of being a "conspiracy of silence." "Masara Kim," she says in her narration, is the "eyes and ears of a world that doesn't care." After months of interviews with the conflict reporters and Nigeria asylum seekers in the West, Logan cuts through the fog of war to show who in Nigeria is killing who and why.
Dr. Sulieman Yahaya Kwande, a former Representative of Bassa/ Jos North from the ruling party of All Progressive Congress (APC), has said that "Killings of any religion or tribe is an evil act and against the will of God. Nigeria authority should take quick action and stop such killings, I appreciate Lara Logan and the team of Rural Watch News for the timely report."
"This documentary has been produced to open the heart, eyes and conscience of an otherwise unperturbed world to the wanton cruelty of bands of murderous Jihadists. I strongly commend this great effort," according to Dr. Pogu Bitrus, National President of the Middle Belt Forum.
A respected scholar in Washington D.C. has said the film exceeded her expectations. "Even for those of us informed about the Fulani and Boko Haram atrocities — this film is an eye opener," wrote Nina Shea, director of the Center for Religious Freedom at the Hudson Institute.
Among several revelations in the film, Logan documents how Barak Obama rebuffed President Goodluck Jonathan when he needed arms to fight Boko Haram and put its weight behind the election of Muhammadu Buhari.
The press event coincides with the grim anniversary of a massacre of 29 Christian villagers in a classroom of LEA Primary School Nkiendoro, for which no one has been held accountable.
"They were looking for refuge at a military base to hide from their attackers, yet they were locked in the classroom and killed by Muslim Fulani terrorists as a result of the negligence of the Military," according to Zongo.